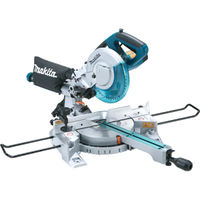 Makita LS0815FLN Slide Compound Mitre Saw 216mm with Laser Guide 240v
Makita LS0815FLN Slide Compound Mitre Saw 216mm with Laser Guide
The new Makita LS0815FL 216mm slide compound mitre saw has a features list ideally suited to first and second fix on-site carpentry operations.
It is a 216mm (8-1/2") cost-effective slide compound mitre saw with an integrated laser marker, LED job light and a maximum mitre range of 45-60°. With positive stops at 0, 15, 22.5, 31.6 and 45° which make mitre and repeat settings simple and quick. Four steel bars with 6 linear ball bearings are used for smooth and precise sliding action. A soft start 1,400W motor provides the power which will run the blade up to 5,000rpm without load.
The rigid, cast alloy base and twin parallel slides give a high level of accuracy with the blade at any angle. Saws with slides above each other as opposed to side by side as on the LS0815FL, prove to be inaccurate as the drive head has a tendency to tilt the slides into a curved track. Twin material support bars are fitted either side of the base plate which also has a left side sub fence with a fixed fence on the right side. The stock clamping post can be fitted to either side. A soft grip handle is provided for ease of transportation.
Weighing in at 14.2kg, it's relatively easy to move around the workshop or site. A sliding sub-fence is fitted on the left hand side as well as work supports on each side.
MAKITA LS0815FL FEATURES
Soft start
Soft grip handle
Built in laser guide
LED job light
Sliding sub fence (Left side only)
High cutting capacity
Lightweight and portable at 14.5kg for easy site transport
Holder can be attached to both sides of base
MAKITA LS0815FL SPECIFICATION
Voltage: 110v / 240v
Laser Type: Red Laser 650 nm, <1 mW (Laser Class 2)
Blade Diameter: 216 mm
Blade Body Thickness: 1.5 mm - 2.5 mm
Bore (Arbor) Diameter: 30 mm
Max. Mitre Angle: Left 50° / Right 60°
Max. Bevel Angle: Left 48° / Right 5°
No Load Speed: 5,000 rpm
Dimensions (L x W x H): 755 mm x 450 mm x 488 mm
Net Weight: 14.2 kg
MAKITA LS0815FL CUTTING CAPABILITIES (H x W)
Mitre Angle
Bevel Angle
45° (left)
0°
5° (right)
0°

50 mm x 305 mm

65 mm x 305 mm

60 mm x 305 mm

45°  (left and right)

50 mm x 215 mm

65 mm x 215 mm

–

60° (right)

–

65 mm x 150 mm

–
MAKITA CHOP SAW NOISE & VIBRATION
Noise Sound Pressure: 87 dB(A)
Noise Sound Power: 110 dB(A)
Noise K Factor: 3 dB(A)
Vibration K Factor: 1.5 m/sec²
Vibration No Load: 2.5 m/sec²
Makita 3 Year Warranty
The 3 year warranty applies to tools purchased on or after July 1st 2012. This excludes batteries, chargers, outdoor power equipment, airtools and accessories. These are all supplied with a standard years warranty.
Tools must be registered online within 30 days of purchase to qualify for the warranty extension otherwise a standard 1 year warranty will apply.
Any warranty claims outside of the 1st year but within the second or 3rd must be dealt with directly by Makita.
What if my product becomes faulty?
Any warranty claim must be logged within the warranty period. This involves sending the tool complete packaged to a local dealer or Authorised Service agent with the 3 year certificate and the original sales receipt.
Alternatively you can send it to Makita UK Ltd in Milton Keynes. To arrange this please contact Makita UK on Tel: 01908 211 678, or email: servicecare@makitauk.com.
Subject to inspection, the product will be repaired free of charge. Costs may be incurred for any warranty claims that are deemed invalid.