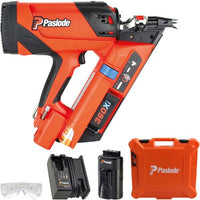 Paslode 360Xi 7.4V First Fix Cordless Framing Nail Gun 1 x 2.1Ah Battery
Paslode 360Xi Framing Nail Gun (Lithium Battery included)
The 360Xi is Paslode's most advanced 1st fix framing nail gun. This latest version replaces the previous IM360Ci model with great improvements for better performance, reliability and comfort than ever before.
It fires 51-90mm nails with ease thanks to its unbeatable power to weight ratio. It's powered by a combination of a weatherproof gas fuel cell and a high-performing Lithium battery which allows you to frame up to 5 roofs on just 1 charge.
Please note: The 360Xi uses different nails and gas to the IM350+.
Includes
2.1Ah Lithium battery
Battery charger
High-impact carry case (case shape may vary)
Safety glasses
Allen key
2 year warranty as standard

 

(you no longer need to register to receive your extended warranty)
Best Features of the Paslode 360Xi Framing Nailer
Unbeatable power (105 J) to weight (3.6 kg) ratio - this Paslode framing nailer can drive long nails in to the hardest substrates with ease
Great improvements over the previous IM360Ci model:

5% lighter weight - reduced from 3.8 kg to 3.6 kg
Better balanced
Re-engineered grip with NEW rubber distribution
Optimised nose and probe
NEW quick-release removable magazine to prevent nail jams
NEW battery position allows you to place two fingers around the battery for easier changes
NEW housing
NEW bi-function belt/rafter hook which can be placed on the right or left side

High-performing Lithium battery - this Paslode first fix nail gun can frame up to 5 roofs on just 1 battery charge
Weatherproof gas fuel cell allows you to work in any weather from -15 to 49°C
Easy depth of drive adjustment for perfect and consistent finishing
Last nail lock-out system stops the tool from firing when it's empty to prevent damage to the tool and building materials
Power gauge quickly shows the remaining battery charge and gas fuel
Technical Spec.
Battery type: Li-ion
Nail length range: 51-90mm
Nail diameter range: 2.8-3.1 mm
Fixings per sec: 2-3
Fixings per hour: 1000
Fixings per battery charge: 13000 shots
Fixings per gas fuel cell: 1250 shots (-5°C)
Magazine capacity: 47 fixings
Power (impact force): 105 J
Dimensions (L x W x D): 325 x 121 x 376 mm
Weight: 3.6 kg
Vibration: 3.9 m/s²
Sound power: 108 dB(A)
Sound pressure: 95 dB(A)
Battery charge time: 90 mins