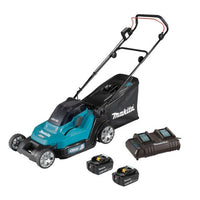 MAKITA DLM432CT2 TWIN 18V LXT CORDLESS 430MM LAWN MOWER INC 2X 5.0AH BATTS
With zero emissions, lower noise and none of the maintenance associated with gas power equipment, the 18v x2 (36v) DLM432 Cordless Makita Lawn Mower is a welcome solution for efficient grass cutting. It's powered by two 18V LXT batteries for maximum power and run time, but without leaving the 18v LXT battery platform.
The Makita-built motor delivers 3,600 RPM and the mower offers ease-of-use features including quick height adjustments, a 50 litre capacity grass collector, and a full 430mm (17") cutting width. Replaces the DLM431.
Supplied here with 2x BL1850B 18v 5.0h batteries and 1x DC18SH twin port charger, plus a metal 2-tooth blade and socket wrench.
FEATURES
Makita-built motor delivers 3,600 RPM for faster and powerful cutting
Easy to operate lever for quick adjustment of 13 cutting heights (20-75mm)
Soft start suppresses start-up reaction for smooth start-ups and longer gear life
430mm (17") cutting width for optimum performance
Aerodynamic cover and built-in ball bearings help reduce the required push force
Grass level indicator is located on the top of the grass catcher bag
Grass catcher bag holds up to 50 Litres of grass
Weighs only 18.3 Kg with batteries for reduced operator fatigue
Extreme Protection Technology (XPT) is engineered for improved dust and water resistance for operation in harsh conditions
Rubberized soft grip handle bar for added comfort
Electric brake for maximum productivity
Compatible with Makita 18V Lithium-Ion batteries with a Star symbol
𝗖𝗛𝗢𝗢𝗦𝗘 𝗔 𝗙𝗥𝗘𝗘 𝗥𝗘𝗪𝗔𝗥𝗗 𝗪𝗜𝗧𝗛 𝗧𝗛𝗜𝗦 𝗧𝗢𝗢𝗟 𝗖𝗵𝗼𝗼𝘀𝗲 𝗮 𝗙𝗥𝗘𝗘 𝗠𝗥002𝗚𝗭01 𝗼𝗿 𝗮 𝗗𝗠𝗣180𝗭 𝗼𝗿 2𝘅 𝗟𝗫𝗧 𝗕𝗮𝘁𝘁𝗲𝗿𝗶𝗲𝘀 (5.0𝗔𝗵) 𝘄𝗵𝗲𝗻 𝘆𝗼𝘂 𝗯𝘂𝘆 𝗮 𝗾𝘂𝗮𝗹𝗶𝗳𝘆𝗶𝗻𝗴 𝗠𝗮𝗸𝗶𝘁𝗮 𝗧𝘄𝗶𝗻 18𝗩 (36𝗩) 𝗟𝗫𝗧 𝗧𝗼𝗼𝗹!
https://makitauk.com/redeemgarden