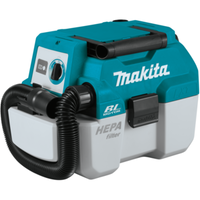 Makita DVC750LZ LXT 18V Brushless Wet & Dry Vacuum Cleaner L-Class Low Noise Body Only
The Makita DVC750L is a cordless portable vacuum cleaner for both Wet & Dry vacuum cleaning powered by LXT 18V Li-ion battery

Run time with 18V 5.0Ah battery:

Low Setting = 60 mins
High setting = 30 mins
Features and Benefits
Brushless motor
L-Class : Removes 99.0% of dust with Limit Value for occupational exposure > 1.0 mg/m³
Variable suction power control (high/low)
For wet and dry use (Remove filter for wet use)
Compact size (418 x 251 x 278mm)
Foldable handle
Blower function
Equipped with HEPA filter
Flexible hose with on-tool storage
Extremely low noise
Range of accessories available
Body Only - No Batteries or Charger Included.
Specifications
Max Air Flow (Lo/Hi): 1.3 / 1.6m³/min
Max Sealed Suction (Lo/Hi): 4.2 / 6.7kPa
Battery Type: Lithium-ion
Body only machine:
Voltage: 18v
Dust Bag Capacity: 7.5litres
Tank capacity Wet: 4.5litres
Noise sound pressure: 76dB(A)
Noise K factor: 2.5dB(A)
Suction Power Low / High: 25 / 50W
Vibration K factor: 1.5m/sec²
Vibration no load: 2.5m/sec²
Net weight: 4.3 - 4.6kg
Makita 3 Year Warranty
The 3 year warranty applies to tools purchased on or after July 1st 2012. This excludes batteries, chargers, outdoor power equipment, airtools and accessories. These are all supplied with a standard years warranty.
Tools must be registed online within 30 days of purchase to qualify for the warranty extension otherwise a standard 1 year warranty will apply.
Any warranty claims outside of the 1st year but within the second or 3rd must be dealt with directly by Makita.
What if my product becomes faulty?
Any warranty claim must be logged within the warranty period. This involves sending the tool complete packaged to a local dealer or Authorised Service agent with the 3 year certificate and the original sales receipt.
Alternatively you can send it to Makita UK Ltd in Milton Keynes. To arrange this please contact Makita UK on Tel: 01908 211 678, or email: servicecare@makitauk.com.
Subject to inspection, the product will be repaired free of charge. Costs may be incurred for any warranty claims that are deemed invalid.