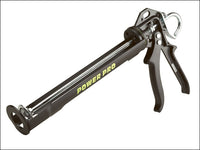 Everbuild Power Pro Heavy Duty Sealant Silicone/Adhesive Gun C4
The Everbuild HH0119101230 Power pro is the ultimate heavy-duty C4, Caulking gun. It has an extra pull trigger for a firmer grip and use.
The C4 can be used by all professional Tradesmen and home DIY user. It can be used for both a 310ml and a 400ml cartridge. Supplied as a single unit.
Features and Benefits:
Hook at the end of the Caulk gun allows you to hang it up keeping your work space tidy and clean.
Open top - clearly what is in the gun.
Long grips - easier, stronger grip for the caulking gun.
Technical Specification:
Capacity for - 400ml (C4)
Supplied With:
1 x Everbuild HH0119101230 Power Pro Sealant Gun C4