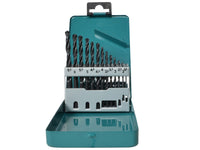 Makita D-54075 13 Piece HSS-R Metal Drill Bit Set With Storage Case
Manufactured to DIN 338
Highly efficient HSS-R drill bits suitable for drilling applications in steel and cast-steel alloyed and unalloyed up to 900N/mm² tensile strength, grey cast,malleable cast iron, die-cast metal, iron sinter, nickel-silver, graphite cast iron, short chipping aluminium alloys, bronze, brass and hard plastics. Includes sizes1.5, 2, 2.5, 3, 3.2, 3.5, 4, 4.5, 4.8, 5, 5.5, 6, 6.5mm.
Features and Benefits:
Suitable for drilling steel up to a tensile strength of 900 N/mm², non-ferrous metals, cast iron, hard plastics etc.
High rotational precision.
Right-hand cutting twist drill bit.
Shank equal to drill bit diameter.
Technical Specification:
Sizes included Ø - 1.5, 2, 2.5, 3, 3.2, 3.5, 4, 4.5, 4.8, 5, 5.5, 6, 6.5mm
Colour - Black
Point Angle - 118°
Standards - DIN 338
Bit Geometry - Standard Twist Bit