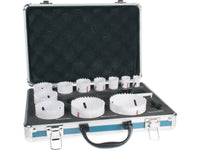 Makita 14 Piece Holesaw Kit D-47298
The Makita D-47298 14 piece plumbers holesaw set is specifically designed to suit the needs of plumbers, featuring the most common standard size holesaws, you unlikely to need anything else.
Suitable for use plumbing, trunking, fitting conduit, pipes in the kitchen or bathroom. Can be used with hardwood, softwood, mild steel and aluminum. Supplied with 11 holesaws, 2 arbors and spring all in a handy aluminium protective carry case.
Features and Benefits:
Fast cutting and long life. Sizes carefully selected for the professional plumber
Star Rating: ****
Application: Plumber, trunking, conduit, pipe, kitchen, bathroom Hardwood, Softwood, Metal, Mild Steel, Aluminium
The Bi-Metal holesaw range have a vari-pitch tooth design and are recommended for cutting steel, aluminium, copper, brass, wood and plastic.
Aluminium case
Technical Specification:
Application: Steel,aluminium, copper, brass, wood and plastic
Sizes: 19, 22, 25, 29, 35, 38, 44, 51, 57, 68, 75mm
Supplied With:
11 x Holesaws (19, 22, 25, 29, 35, 38, 44, 51, 57, 68, 75mm)
2 x Arbor
1 x Spring
1 x Aluminium Case