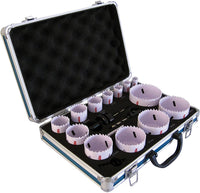 Makita 16 Piece Holesaw Kit D-47307
Bi-Metal Holesaws, supplied in an aluminium case.
The Bi-Metal Holesaw range have a varied-pitch tooth design and are recommended for cutting steel, aluminium, copper, brass, wood and plastic.
Also available in Electricians and Plumbers kits with the most popular sizes.
Application: trunking, conduit, pipe, kitchen, bathroom, hardwood, softwood, metal, mild steel, aluminium, PVC
Arbours available with hex (3 jaw chuck) and SDS-Plus shanks.
Contains:
16mm, 19mm, 22mm, 25mm, 32mm, 35mm, 37mm, 44mm, 51mm, 57mm, 64mm, 68mm and 76mm Holesaws Plus 2 Arbours and 1 Spring.