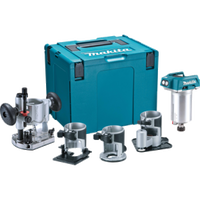 Makita DRT50ZJX3 18v Li-ion Brushless Router/Trimmer Extra Bases Set
Model DRT50 is a cordless trimmer powered by 18V Li-ion battery and developed based on the model RT0700C
USER BENEFITS:
Brushless motor
Soft start
Variable speed control dial.
Constant speed control
LED job light
Push button with lock on/off
Connectable to dust extractor
Aluminium base for higher durability and accuracy
Aluminium housing
Shaft lock
1 x DRT50Z Router/Trimmer
1 x MAKPAC Type 4 Connector Case
1 x Trimmer Guide
1 x Trimmer Base
1 x Plunge Base
1 x Straight Guide
1 x Dust Nozzle
1 x Tilt Base
1 x Offset base
1 x Collet Cone
1 x Dust nozzle
1 x Template Guide
1 x Template Guide
1 x Grip Attachment
1 x Guide Holder
2 x Hex Wrench
Battery Type - Lithium-ion
Voltage - 18 v
Collet Capacity - 9.52mm (3/8") and 6.35 (1/4")
Noise sound pressure - 78 dB(A)
Plunge Capacity (Trimmer) - 0 - 40 mm
Plunge Capacity (Plunge) - 0 - 35 mm
No Load Speed - 10,000 - 30,000 rpm
Vibration K factor - 1.5 m/sec²
Vibration: Cutting MDF - 4.5 m/sec²
Vibration no load - 2.5 m/sec²
Net weight - 2.1 kg
Bare Unit / Naked Machine Only Supplied Without Battery Or Charger
Makita 3 Year Warranty
The 3 year warranty applies to tools purchased on or after July 1st 2012. This excludes batteries, chargers, outdoor power equipment, airtools and accessories. These are all supplied with a standard years warranty.
Tools must be registered online within 30 days of purchase to qualify for the warranty extension otherwise a standard 1 year warranty will apply.
Any warranty claims outside of the 1st year but within the second or 3rd must be dealt with directly by Makita.
What if my product becomes faulty?
Any warranty claim must be logged within the warranty period. This involves sending the tool complete packaged to a local dealer or Authorised Service agent with the 3 year certificate and the original sales receipt.
Alternatively you can send it to Makita UK Ltd in Milton Keynes. To arrange this please contact Makita UK on Tel: 01908 211 678, or email: servicecare@makitauk.com.
Subject to inspection, the product will be repaired free of charge. Costs may be incurred for any warranty claims that are deemed invalid.