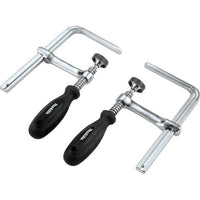 Makita 194385-5 Guide Rail Clamp Set
The Makita Clamp Set (194385-5) is engineered for use with the Makita Plunge Circular Saw (SP6000) and one of the Makita Guide Rails (194368-5 / 194367-7 / 199141-8).
The clamp set is engineered to hold the guide rail securely in place. When used together the result is a more portable option to a table saw for ripping sheet material.
Features and Benefits:
Holds material firmly in place – Either with a guide rail or on its own it can hold two bits of material firmly in one place.
Prevents guide rails from shifting – For a more accurate result.
Clamps slide into channels located on underside of guide rail – For increased safety whilst using heavy machinery.
Technical Specification:
Quantity: 2 pack.