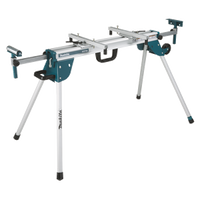 Makita Mitre Saw Stand DEAWST06
Model DEAWST06 is a lightweight aluminium Mitre Saw Stand; about 40% lighter than the current model DEAWST05, providing easy jobsite portability.
Compatible with the majority of popular Makita mitre saws, the stand allows the mitre saw to slide for convenient positioning.
There are adjustable extending arms on both sides of the stand and one arm has a built-in roller support making material placement easy and accurate. Fully extended the stand supports are 2.55 metres wide.
The individual leg height can be adjusted to ensure stand stability and when folded for easy transportation this lightweight 16kg stand has built in casters and a carry handle.
Its main features are:
- Tool less installation/removal of Mitre Saw
- Folding legs for easy transport and compact storage
- Adjustable foot to enable 100% stability
- One-handed carrying handle
- Transport wheels for added portability
Please note the stand is supplied alone without any tools as per the product images which are for illustration purposes only
Compatible with : LS0714, LS0815, LS1016,LS1018, LS1216, LS1040, DLS713, MLS100.
Specifications of the Makita DEAWST06 Mitre Saw Leg Stand
Length 1150 mm
Width 750 mm
Height 850 mm
Net weight 16 kg