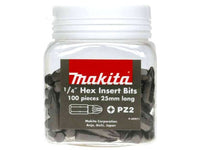 Makita PZ2 Bit Tub (Pkt 100) P-49971
100% compliant to DIN standards and enables an excellent fit to screw head.

Reduced slippage and damage to screw head or bit.

For regular professional use.

Can be used direct in Impact Drivers.

Star Rating: ****

Application: Screwdriving, cabinet making, joinery, assembly, fixings,

Features:
These Screwdriver bits are produced to Makita's high quality standard using special S2 alloyed steel and a state-of-the-art heat treatment process.

Contents is 100 of the most popular, Pozi 2 bit

Contains: 100x 25mm Pozi drive 2 bit.