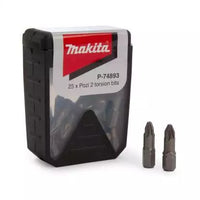 Makita PZ2 Bit Tub (Pkt 25) P-74893
The Makita P-74893 are high quality screwdriver bits with tough yet flexible torsion zones which cushion peak torque during hard applications and helps extend bit life considerably.
100% compliant to DIN standards and enables an excellent fit to screw head. Reduced slippage and damage to screw head or bit.
They can be for regular professional use also, can be used direct in Impact Drivers. Suitable applications: Screw driving, cabinet making, joinery, assembly, fixings and more.
Features
25mm bits
PZ2
25 bits in a "tic-tac" storage box