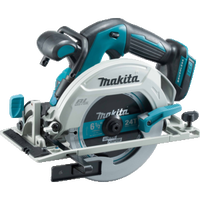 Makita DHS680Z 18v Brushless 165mm Circular Saw Body Only
Makita DHS680Z Circular Saw 18v Body Only is built round a powerful brushless DC motor and automatic torque drive that increases the torque of the motor depending on the loading while cutting.
Features of these DHS680Z Makita Circular Saws include a magnesium base with 45 degree to 50 degree bevel cutting capacity, twin LED work lights with pre-glow and large lock off lever. An LED indicator panel has 3 indicators for battery fuel gauge, auto torque drive and total overload protection.
User Benefit:
Automatic Speed Control: Automatically changes cutting speed according to load condition
Electric brake
Soft start
Electronic current limiter for overload protection.
Tool Hanger
Twin LED job light
Battery fuel gauge
Rear dust exhaust port
Large lock off lever.
Compact and lightweight design
Ergonomic soft grip.
Blower function to clear wood dust from cutting line.
Larger base than current models for more stable operation
Technical Specification:
Blade Diameter - 165mm
Max Cut @ 0&ordm - 57mm
Max Cut @ 45&ordm - 41mm
Max Cut @ 50&ordm - 37mm
Bore Diameter - 20mm
Noise sound pressure - 83dB(A)
Noise sound power - 94dB(A)
Noise K factor - 3dB(A)
Maximum Output - 680w
No Load Speed - 5,000rpm
Vibration K factor - 1.5m/sec&sup2
Vibration: Cutting Wood - 2.5m/sec&sup2
Net weight - 3.3kg
What's in the box
1x DHS680Z Circular Saw Body Only
1x Saw Blade B-85101
1x Guide Rule 164095-8
1x Hex Wrench 783217-7
1x Dust Extraction Adaptor
This product is supplied as a Bare Unit, no Battery or Charger is supplied.
Makita 3 Year Warranty
The 3 year warranty applies to tools purchased on or after July 1st 2012. This excludes batteries, chargers, outdoor power equipment, airtools and accessories. These are all supplied with a standard years warranty.
Tools must be registered online within 30 days of purchase to qualify for the warranty extension otherwise a standard 1 year warranty will apply.
Any warranty claims outside of the 1st year but within the second or 3rd must be dealt with directly by Makita.
What if my product becomes faulty?
Any warranty claim must be logged within the warranty period. This involves sending the tool complete packaged to a local dealer or Authorised Service agent with the 3 year certificate and the original sales receipt.
Alternatively you can send it to Makita UK Ltd in Milton Keynes. To arrange this please contact Makita UK on Tel: 01908 211 678, or email: servicecare@makitauk.com.
Subject to inspection, the product will be repaired free of charge. Costs may be incurred for any warranty claims that are deemed invalid.