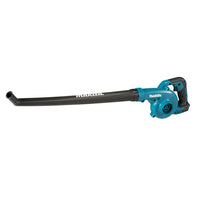 Makita DUB186Z 18V Cordless Blower Body Only
The Makita DUB186 18v LXT cordless leaf blower follows on from the popular DUB183 model, but provides approximately 20% more power from the same form. The DUB186's long leaf blower nozzle makes it ideal for clearing gardens and pathways. It has 3 air volume settings, and a variable speed that can be changed at the push of a button.
With a maximum air velocity of 244.87km/h and a maximum air volume of 3.2m³/min, this blower is a powerful tool to keep your garden and pathways looking clean and clear. Plus, it's lightweight - weighing only 2.1kg with a battery, it's easy to manoeuvre and comfortable to carry. When powered with a BL1850B 5.0Ah battery, the blower will last for a runtime of 2 hours.
FEATURES
Variable speed control by trigger
3 air volume settings: Low, Medium, High
Increased air volume
Compact and lightweight design
Ergonomic soft grip
Equipped with Battery protection circuit - designed to protect the battery from damages due to overdischarge, high temperature or overload current
Supplied with long curved nozzle
Optimum Grip-To-Frame angle
SPECIFICATION
Battery Type: LXT Li-Ion
Voltage: 18v
Overall Length: 861mm
Max Air Velocity: 244.8km/h
Max Air Volume: 3.2m³/min
Air Volume Settings: 3
Weight (Body Only): 1.5kg
Weight (With Battery): 2.1kg
Blowing Force: 2.5N
No Load Speed: 0-18,000rpm
NOISE & VIBRATION
Vibration: 2.5

m/s²

Vibration K Factor: 

1.5 m/s²

Sound Pressure Level: 82.5 dB(A)

Sound Power Level: 92.4 dB(A)

Sound K Factor: 2.8 dB(A)