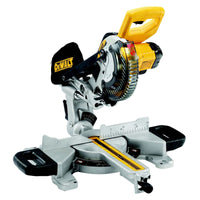 DeWalt DCS365N 18v Cordless XR Li-Ion 184mm Mitre Saw with XPS Body Only
DeWalt DCS365N 18v Cordless XR Li-Ion 184mm Mitre Saw with XPS Body Only
The DCS365 offers professionals superior cordless performance compared to previous models. It also delivers the same outstanding accuracy (0.1° at 0 mitre and 0.3° in bevel) as that achieved by equivalent corded products, as well as an exceptional level of precision throughout the lifespan of the tool. In addition, the built-in XPS shadow cutline indicator provides fast and precise alignment of the blade while illuminating the workpiece with the integrated LED light.
Lightweight, the DeWalt 18v Cordless Mitre Saw features a compact design for added convenience and ease of portability when transporting the tool between jobsite locations. Simple to operate, and with a powerful blade rotation of 3,750rpm, giving the feeling of using a mains connected tool, operators can make 250 cuts per charge* with an XR 18V Lithium-ion 4.0Ah battery. This is sufficient to complete a whole day's work with maximum productivity and efficiency. Owners equally benefit from a 250mm slide and minimum 50mm height cutting capacity. (*Based on cutting 18x150mm MDF with a DeWalt XR 18V Lithium-ion 4.0Ah battery.)
Other useful features include a dust bag to hold the debris from the workpiece, and Airlock system compatibility for easy hose extraction, thereby keeping the user safe from the inhalation of hazardous materials.
DEWDCS365N-XJ FEATURES
XPS cutline system projects a perfect shadow on your cut line
3750RPM - gives you the feeling of using a cordless mitre saw
With 250 cuts per charge using 4.0Ah XR Batteries, the runtime is superb and the XPS light will flash when the battery charge is low
Mitre angle adjustment system provides accurate and consistent setting of mitre angles between 0 and 60° right and 0 and 50° left
Mitre and bevel angle detents for quick and easy set up of the saw
Dust control - air-lock compatible
Double insulated DeWalt 65 mm fan cooled motor with replaceable brushes for maximum power in hard wood
The large dual sliding fence mechanism gives maximum support in large
material cuts at any angle or combination of angles
Horizontal rails create additional capacity for larger materials
The aluminium base construction provides stability to the saw while still retaining its portability
Mitre and bevel angle detents for quick and easy set up of the saw
DEWALT DCS365N SPECIFICATION
Cuts per Charge [4Ah + Soft wood 75x50mm]: 200
Cuts per Charge [4Ah + MDF skirting 18x119mm]: 320
Cutting Capacity at 90°/90° (W x H): 250 x 50 mm
Cutting Capacity at 45°/90° (W x H): 176 x 50 mm
Cutting Capacity at 90°/45° (W x H): 250x35 mm
Max. Cutting Capacity at 45°/45°: 176x35 mm
Blade Speed: 3750RPM
Blade Diameter 184mm
Blade Bore: 16mm
Bevel Capacity: 48°
Mitre Capacity (right/left): 45/45°
Weight: 11.5kg
Depth: 590mm
Length: 490mm
Height: 590mm
DCS365N NOISE & VIBRATION
Hand/Arm Vibration - Cutting Wood: <2.5 m/s²
Uncertainty K 1 (Vibration): 1.5 m/s²
Sound Power: 93 dB(A)
Sound Power Uncertainty: 2.0 dB(A)
Sound Pressure: 88 dB(A)
Sound Pressure Uncertainty: 2.0 dB(A)