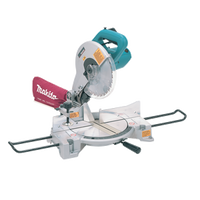 Makita LS1040N 260mm Mitre Saw 240v
Makita LS1040N 260mm 10" Compound Mitre Saw
Makita's 10" Compound mitre Saw (model LS1040) combines power, performance, and ease of use for most common mitre cuts including a range of applications including woodworking, cabinetry, deck building, framing, and more.
The LS1040 has a dynamically balanced 15 AMP direct drive motor with 4,600 RPM for improved performance. The direct drive motor with soft start delivers smoother start-ups and constant power, with no belts to slip or replace.
It has a dual post compound pivot arm, with bevel cuts up to 45° to the left. mitre adjustments range from 0°-45° (left) and 0°-52° (right), with 9 positive mitre stops at 15°, 22.5°, 30°, and 45° (left or right), and 0° (90° cuts). The precision-machined aluminum base ensures accurate cuts. Ease-of-use and comfort features include a fluorescent light that works independently of the blade rotation to clearly illuminate the work surface, and a compact size (weighs only 11Kg) for easy portability.
The LS1040 is engineered for a broad range of trades, including finish carpenters, professional woodworkers, case and base installers, cabinet installers, decking and flooring applications, siding installers, general contractors seeking a best-in-class 10" compound mitre saw for the jobsite or the benchtop.
FEATURES
Powerful 15 AMP direct drive motor for improved performance; 4,600 RPM
Dual post compound pivoting arm
Miter cuts 0°-45° left and 0°-52° right
Positive miter stops at 9 settings: 15°, 22.5°, 30°, 45°, right or left and 0° (90° cuts)
Bevel cuts up to 45° to the left
Weighs only 11 Kg for easy portability
Precision machined aluminum base ensures accurate cuts
Performs compound cutting operations
Shaft lock for easy blade changes
SPECIFICATION
Blade Diameter: 260 mm
Bore Diameter: 30 mm
Input wattage: 1650 w
Max bevel range: 45 - 90 º
Max mitre cut at 45º: 48 x 95 mm
Max mitre cut at 90º: 90.5 x 95 mm
Max mitre range: 45 - 90 º
Net weight: 11 kg
No Load Speed: 4600 rpm
Makita 3 Year Warranty
The 3 year warranty applies to tools purchased on or after July 1st 2012. This excludes batteries, chargers, outdoor power equipment, airtools and accessories. These are all supplied with a standard years warranty.
Tools must be registered online within 30 days of purchase to qualify for the warranty extension otherwise a standard 1 year warranty will apply.
Any warranty claims outside of the 1st year but within the second or 3rd must be dealt with directly by Makita.
What if my product becomes faulty?
Any warranty claim must be logged within the warranty period. This involves sending the tool complete packaged to a local dealer or Authorised Service agent with the 3 year certificate and the original sales receipt.
Alternatively you can send it to Makita UK Ltd in Milton Keynes. To arrange this please contact Makita UK on Tel: 01908 211 678, or email: servicecare@makitauk.com.
Subject to inspection, the product will be repaired free of charge. Costs may be incurred for any warranty claims that are deemed invalid.