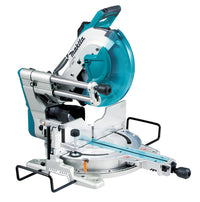 Makita LS1219L 305mm Slide Compound Mitre Laser 240v
Makita LS1219L 305mm Compound Mitre Saw with Laser Guide
The Makita LS1219L 305mm Compound Mitre Saw is powered by a 15 amp direct drive motor with soft start - a key point of difference. Direct drive enables smoother start-ups and consistent, constant power with no belts to slip or replace. The electric brake provides added convenience, and the electronic speed control maintains constant speed under load for smoother, higher-quality cutting.
Additional features include a high-quality 60T carbide-tipped blade, and a see-through blade guard system for greater visibility of the blade and line-of-cut. The built-in laser indicates the line-of-cut whether the blade is turning or not, and offers micro-adjustments for precise "left-of-blade" or "right-of-blade" cutting. It has dual dust collection ports for improved dust collection capability for use with a bag (included) or vacuum (sold separately). It also has a large-sized aluminium base that improves the stability of cutting stock for more efficient cutting.
FEATURES
DXT - Deep and eXact cutting Technology, allows a larger cutting capacity due to the innovative direct drive gearbox
Motor head slides on fixed pipes without extending machine at rear end, so the machine can be placed close to wall
Front knob for easy bevel adjustment
Dual dust collection ports provide excellent dust extraction performance
Linear ball bearing system engineered to deliver "dead-on" accurate cuts
Powerful 15.0 amp direct drive motor requires less maintenance
Large-sized aluminium base improves stability of material for efficient cutting
Positive mitre stops at: 0°, 15°, 22.5°, 31.6°, 45°, and 60° left or right
Built-in laser clearly indicates line-of-cut whether blade is turning or not
On-off switch and micro-adjustments for precise "left-of-blade" or "right-of-blade" cutting
Ergonomic rubberised horizontal D-handle design for better fit and added comfort
Replaceable stainless steel mitre scale features large and easy-to-read markings
See-through blade guard system for greater visibility of blade and line of cut
Easy blade changes for increased efficiency
Easy one-touch slide lock for convenience
Holders to support a wide work piece
Connects to dust extractor
Electric brake
Soft start
Double insulation
SPECIFICATION
Input Wattage:
110v: 1450 w
240v: 1800 w
Size LxWxH: 898x580x530
Blade Diameter: 305 mm
Bore Diameter: 30 mm
No Load Speed: 3200 rpm
Max Mitre Range (L-R): 60°-60°
Max Bevel Range(L-R): 48°-48°
Power Supply Cord Length: 2.5 m
Weight: 29.5 kg
Makita 3 Year Warranty
The 3 year warranty applies to tools purchased on or after July 1st 2012. This excludes batteries, chargers, outdoor power equipment, airtools and accessories. These are all supplied with a standard years warranty.
Tools must be registered online within 30 days of purchase to qualify for the warranty extension otherwise a standard 1 year warranty will apply.
Any warranty claims outside of the 1st year but within the second or 3rd must be dealt with directly by Makita.
What if my product becomes faulty?
Any warranty claim must be logged within the warranty period. This involves sending the tool complete packaged to a local dealer or Authorised Service agent with the 3 year certificate and the original sales receipt.
Alternatively you can send it to Makita UK Ltd in Milton Keynes. To arrange this please contact Makita UK on Tel: 01908 211 678, or email: servicecare@makitauk.com.
Subject to inspection, the product will be repaired free of charge. Costs may be incurred for any warranty claims that are deemed invalid.