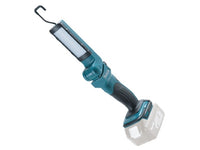 Makita DML801 18V LED Pivoting Head Lamp
The Makita Led pivoting lamp is a hanging lamp great for offices, outdoor sites and used for an inspection lamp. This lamp would be used by trade professionals or home DIY users. This lamp has a hook which is ideal for hanging on a hook, rope or anything else it can safely be hung on, it shines on one side and can be used in areas where no light has been fitted.
It has a two-stage push button with different brightness levels. It has a hinge halfway down the lamp so it can be folded in half and kept in a small storage area either in a bag or case. This lamp is a bare unit and does not come with a battery. Supplied as a single unit without a battery.
Features and Benefits:
Hook – Enables the lamp to be hung on sites where electrics have not yet been installed.
Pivoting head - Head rotates both left and right for various lightning directions with 7 positive stops at 0, 30, 60, 90, 120, 150 & 180 degrees
Comfort grip – Ergonomically designed rubber grip for added comfort.
Up to 17 hours of continuous illumination in 12 L.E.D. mode with a 5.0Ah 18V LXT battery (sold separately)
Up to 40 hours of continuous illumination in 6 L.E.D. mode with a 5.0Ah 18V LXT battery (sold separately)
Technical Specification:
Chemistry: Li-ion
Voltage: 14.4v
Size: 380 x 79 x 116 mm
LEDS: 12