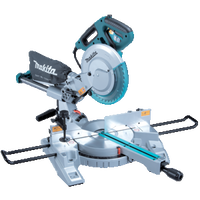 Makita LS1018LN 260mm 10" Slide Compound Mitre Saw with Laser Guide 240v
Makita LS1018LN 260mm 10" Slide Compound Mitre Saw with Laser Guide
High accuracy cutting with the Makita LS1018L is easily achieved using the Laser Marker. Allows for easy cut alignment and can be turned on or off with an independent switch. The linear ball bearing system is engineered to deliver accurate cuts. The Soft Start feature ensures a slow build up of blade speed for a smoother more refined operation. The Electric Brake can stop the saw blade rotaion for added safety. A Bevel Range of up to 45 Deg left and right and a Mitre Range of 60 Deg right and 47 Deg left give this Mitre Saw real versatility. Ideal for baseboard and crown molding installation, finish carpenters, cabinet and furniture makers, wood floor installers, deck builders and general construction.
MAKLS1018L-2P FEATURES
Powerful direct drive motor requires less maintenance and delivers 4,300 RPM
Miters 0° - 47° left and 0° - 60° right, with positive stops at 0°, 15°, 22.5°, 31.6°, 45° (left and right)
Cuts up to 12" at 90° and 8 1/2" at 45°
Linear ball bearing system engineered to deliver "dead-on" accurate cuts
Rear handle bevel lock is easily accessible and adjusts 0° - 45° (left and right) with positive stops at 0°, 45° (left and right)
Less weight (20.7 Kg) and compact design for job site portability
Soft start feature for smooth start-ups
Ergonomic rubberized D-handle design for better fit and added comfort
Large precision machined aluminum base supports material for more efficient cutting
Electric brake for maximum productivity
See-through blade guard system for greater visibility of blade and line of cut
Fitted with laser for precise alignment
Oversized trigger switch for better fit, added comfort and easier operation
Includes extension wings for supporting long work pieces
MAKITA LS1018L SPECIFICATION
Voltage: 110v / 240v
Laser Type: Red Laser 650 nm, <1 mW (Laser Class 2)
Blade Diameter: 260 mm
Blade Body Thickness: 1.6 mm - 2.4 mm
Bore (Arbor) Diameter: 30 mm
Max. Mitre Angle: Left 47° / Right 60°
Max. Bevel Angle: Left 45° / Right 45°
No Load Speed: 4,300 rpm
Dimensions (L x W x H): 825 mm x 536 mm x 633 mm
Net Weight: 19.9 kg
Available In 110v & 240v
MAKITA MITRE SAW 260MM CUTTING CAPABILITIES (H x W)
Mitre Angle

Bevel Angle

45° (left)

0°

45° (right)

0°

50 mm x 310 mm

91 mm x 310 mm

31 mm x 310 mm

45°

50 mm x 220 mm

91 mm x 220 mm

31 mm x 220 mm

60° (right)

–

91 mm x 153 mm

–
LS1018L NOISE & VIBRATION
Noise Sound Pressure: 97 dB(A)
Noise Sound Power: 103 dB(A)
Noise K Factor: 3 dB(A)
Vibration: Cutting Chipboard: 2.5 m/sec²
Vibration K Factor: 1.5 m/sec²
Makita 3 Year Warranty
The 3 year warranty applies to tools purchased on or after July 1st 2012. This excludes batteries, chargers, outdoor power equipment, airtools and accessories. These are all supplied with a standard years warranty.
Tools must be registered online within 30 days of purchase to qualify for the warranty extension otherwise a standard 1 year warranty will apply.
Any warranty claims outside of the 1st year but within the second or 3rd must be dealt with directly by Makita.
What if my product becomes faulty?
Any warranty claim must be logged within the warranty period. This involves sending the tool complete packaged to a local dealer or Authorised Service agent with the 3 year certificate and the original sales receipt.
Alternatively you can send it to Makita UK Ltd in Milton Keynes. To arrange this please contact Makita UK on Tel: 01908 211 678, or email: servicecare@makitauk.com.
Subject to inspection, the product will be repaired free of charge. Costs may be incurred for any warranty claims that are deemed invalid.