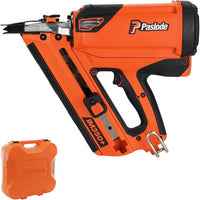 Paslode 906500 IM350 Cordless First Fix Nail Gun 7th Generation
The Paslode 906500 IM350+ first fix framing nailer is the latest version of the iconic nail gun from Paslode. The nailer is ideal for carpenters, roofers and general builders working on new build and renovation projects.
Due to the benefits of 40 years of customer insight and industry leading innovations the IM350+ is robust, durable and delivers performance you can rely on. Included in the new improvements is the longer fan run time which gives improved tool cooling and a longer fan cycle for rapid firing.
The lithium battery is fast charging and able to deliver up to 9,000 shots per charge which is equal to over 4 nail fuel packs. The grip has been improved as well providing ergonomic comfort and grip even after extended use. This nailer is supplied with a lithium battery, battery charger and safety glasses.
Features
Lightest framing nailer in its class.
82 Joules of power - Suitable for versatile framing applications
New grip to minimize fatigue - Added comfort and control for improved ergonimcs and manoevrability
Fast charging battery - Delivers up to 9000 shots per charge
Bigger battery notch - Easier battery insertion and removal
Technical Specification
Weight According EPTA - 3.3 kg
Power (Impact Force) - 82 J
Operating Temperature Range - 0°C...+49 °C
Fixings Per Sec - 2-3 fixings
Fixings Per Hour - 1,000 fixings
Magazine Capacity - 55 fixings
Fuel Cell Capacity - 1,100 (-5°C) shots
Fastener Length Range - 50-90mm
Fixings Per Battery Charge - 9,000
Battery Charge Time - 90
Min. battery Type - Lithium
What Comes in the Box
1x IM350+ Framing Nailer
1x Lithium Battery
1x Lithium Charger
1x Safety Glasses
1x Allen Key
1x Case